Material Sciences
Vol. 10 No. 04 ( 2020 ), Article ID: 35377 , 9 pages
10.12677/MS.2020.104034
Preparation of ZnO/Layered g-C3N4 and Their n-Butanol Gas Sensing Properties
Zhixiong Lin, Shenglong Jin, Yang Lei, Beier Xiong, Yachun Yang, Xiaoxue Lian*
College of Science, CAUC, Tianjin

Received: Apr. 8th, 2020; accepted: Apr. 22nd, 2020; published: Apr. 29th, 2020
ABSTRACT
ZnO/g-C3N4 composites with different morphologies were synthesized by a hydrothermal method. The structure and morphology of the samples were characterized by XRD and SEM. And the gas sensitivity of samples was tested. The results show that linear ZnO successfully loads on the surface of g-C3N4. The optimal operating temperature of ZnO/layered g-C3N4 is 90˚C lower than that of pure ZnO. At its optimal working temperature 240˚C, it has good selectivity and stability for n-butanol, and the response to 50 ppm n-butanol reaches 20.9. The results indicate that g-C3N4 not only reduces the working temperature of ZnO, but also optimizes its gas sensitivity.
Keywords:ZnO, g-C3N4, n-Butanol, Gas Sensitivity

ZnO/层状g-C3N4的制备及其正丁醇气敏性能 研究
林志雄,金胜龙,雷洋,熊蓓尔,杨雅淳,连晓雪*
中国民航大学理学院,天津

收稿日期:2020年4月8日;录用日期:2020年4月22日;发布日期:2020年4月29日

摘 要
本文利用水热法合成了不同形貌的ZnO/g-C3N4复合材料。对样品进行了XRD和SEM表征,并探索了其气敏性能。结果表明,线状ZnO成功地负载在了g-C3N4的表面。其中,ZnO/层状g-C3N4的最佳工作温度比纯ZnO低90℃,在240℃时,对正丁醇具有良好的选择性和稳定性,在50 ppm正丁醇气体中灵敏度达到20.9,表明g-C3N4不仅降低了ZnO的工作温度,同时优化了其气敏性能。
关键词 :ZnO,g-C3N4,正丁醇,气敏性能

Copyright © 2020 by author(s) and Hans Publishers Inc.
This work is licensed under the Creative Commons Attribution International License (CC BY 4.0).
http://creativecommons.org/licenses/by/4.0/


1. 引言
氧化锌(ZnO)是典型的n型半导体,禁带宽度为3.37 eV,由于其独特的物理化学性质和晶体结构,广泛应用于电极材料 [1] [2] [3]、气体传感器 [4] [5]、光催化 [6] [7] 和抗菌 [8] 等诸多领域。氧化物半导体的气敏响应是气体与金属氧化物表面吸附氧的氧化和还原的过程。因此,增大气敏材料的比表面积是提高传感器灵敏度的有效方法之一,它能为气敏反应提供更多的活性位点。目前,有许多科学工作者致力于不同形貌、高比表面积的ZnO纳米材料,如纳米颗粒 [9]、纳米棒 [10]、纳米管 [11] [12]、空心微球 [13] [14] 等其他层级纳米结构 [15] [16] [17]。 在这些纳米结构中,多孔ZnO受到了越来越多的关注,这种结构可以为气体提供更多的扩散通道,从而达到提高气体灵敏度的需求。ZnO的制备方法也是多种多样,应用最广泛的方法有水热法 [18]、模板合成法 [19]、沉淀法 [20]、热分解法 [21] 等。其中,模板导向合成是一种简单而有效的制备多孔金属氧化物的方法。
类石墨氮化碳(g-C3N4)具有良好的热化学稳定性、电子结构、环境稳定性以及易于合成等有点,是一种备受关注的无金属有机半导体 [22] [23] [24]。 因g-C3N4的独特性质使其具有多种应用,如光催化制氢、析氧反应和氧还原反应 [25] [26] 等,人们已经做了大量的研究。然而,电子导电性差、带隙宽、表面积小和活性位点少极大地制约了其应用范围 [27] [28]。 为了有效解决这些问题,研究人员尝试了多种合成方法如原子掺杂、异质结 [29] [30] 等。其中,利用有机溶剂解离g-C3N4的方法引起了广泛关注 [31] ,解离后的纳米结构可以提供更大的比表面积、更多的活性位点和更短的离子扩散路径,增强了其氧化还原能力。同时,也为复合氧化物形成异质结提供了更多的结合位点,这种异质结可以大大地降低金属氧化物的聚集,从而优化金属氧化物的物理化学性能 [32]。
因此,本文通过对比块状g-C3N4和解离后g-C3N4分别负载ZnO的各项性能,来进一步完善这种合成异质结方法,提高金属氧化物的气敏性能。
2. 实验部分
2.1. ZnO/g-C3N4的制备
实验过程中使用的主要试剂有三聚氰胺(C3H6N6) (分析纯)、亚磷酸(H3PO3) (分析纯)、丙三醇(99.5%)、异丙醇(99.5%)、醋酸锌(Zn(CH3COO)2) (分析纯)和无水乙醇(99.7%),以上试剂均购买于Sigma Aldrich。
2.1.1. ZnO/块状g-C3N4的制备
将1 g三聚氰胺(C3H6N6)和1.2 g亚磷酸(H3PO3)溶解在80℃ 100 ml的去离子水中,剧烈搅拌1 h,然后将得到的溶液转移到反应釜中,180℃下反应10 h,将得到的产物离心,用蒸馏水离心清洗数次直到H3PO3被彻底去除。最后,将产物在60℃干燥,得到块状前驱体。
将0.6 g前驱体和5 ml丙三醇和15 ml乙醇在90℃下冷凝回流3 h,得到悬浊液,将悬浊液在超声条件下分散到30 ml去离子水中,随后将0.1 M的醋酸锌(Zn(CH3COO)2)按Mg-C3N4/Mg-C3N4+ZnO = 9%的摩尔比加入上述溶液,在室温下搅拌30 min,将得到的溶液转移到反应釜中,140℃保温24h。将所得样品用蒸馏水和无水乙醇各洗涤三次,并在60℃干燥24 h,即得到ZnO/块状g-C3N4样品。
2.1.2. ZnO/层状g-C3N4的制备
将5 g C3H6N6放在磁舟中在马弗炉中500℃煅烧4 h,得到的产物进行研磨即得到层状C3N4。取0.24g的产物在40ml异丙醇中进行超声剥离,超声10 h后获得g-C3N4纳米片溶液。
将Zn(CH3COO)2按Mg-C3N4/Mg-C3N4+ZnO = 9%的摩尔比加入30 ml去离子水,再将上述溶液加入g-C3N4纳米片溶液中,在室温下搅拌30 min,将得到的溶液转移到反应釜中,140℃保温24 h。将所得样品用蒸馏水和无水乙醇各洗涤三次,并在60℃干燥24 h,即得到ZnO/层状g-C3N4的产物。
2.1.3. ZnO的制备
将一定量Zn(CH3COO)2加入70 ml去离子水中,再将上述溶液在室温下搅拌30 min,后转移到反应釜中,140℃保温24 h。将所得样品用蒸馏水和无水乙醇各洗涤三次,并在60℃干燥24 h,即得到纯ZnO。
2.2. 气体传感器的表征与测试
利用X射线衍射仪(丹东方圆仪器有限公司,DX-2000X,铜靶材,波长为0.154184 nm)表征样品的物相。样品的形貌结构特征通过扫描电子显微镜(Leo 1530 VP)分析。使用CGS-8智能气敏分析仪(北京艾立特科技有限公司)进行气敏性能测试。取适量ZnO/g-C3N4粉体加入少量去离子水充分研磨成均匀的浆料,然后将浆料均匀涂覆于气敏陶瓷管表面。室温干燥24 h后,在气敏老化台上80 mA电流老化72 h,140 mA老化2 h,即得ZnO/g-C3N4气体传感器。气体灵敏度S表征如下:
其中:Ra、Rg (Ω)分别表示气体传感器暴露在空气中和待测气体中的电阻值。响应时间是传感器接触被测气体开始响应后,阻值由Ra变化至Ra-90% (Ra – Rg)所需要的时间;恢复时间为传感器离开被测气体开始响应后,阻值由Rg变化至Ra-10% (Ra – Rg)所需要时间。
3. 结果与讨论
3.1. 结构和形貌
图1是ZnO/g-C3N4系列样品的XRD谱图。从图中可见,层状和块状g-C3N4样品在2θ分别为11.9˚和28.2˚的位置出现了明显的衍射峰,这些衍射峰分别对应g-C3N4的(100)和(002)晶面。除了g-C3N4的衍射峰外,ZnO/层状g-C3N4和ZnO/块状g-C3N4在31.5,34.1,36.0,48.6和62.8的位置上出现了强度较低的衍射峰,经检索与ZnO的(100),(002),(101),(102)和(103)晶面相对应,且与标准卡JCPDS 36-1451相对应。从图中可以看出负载样品同时保留了ZnO和g-C3N4两种物质的特征峰,这表示这两种物质的结构和物相均被保留了下来。同时ZnO的衍射峰强度降低,说明g-C3N4阻碍了ZnO晶粒的生长,从而达到细化晶粒的作用。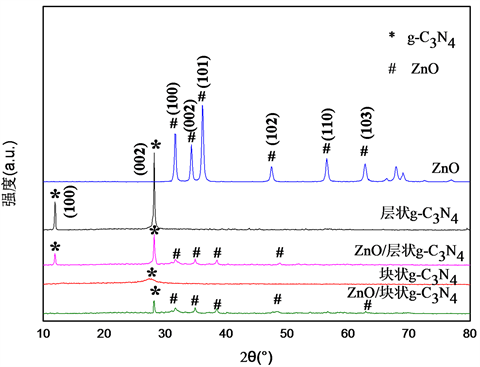 Figure 1. XRD patterns of ZnO/g-C3N4 series of samples
图1. ZnO/g-C3N4系列样品XRD谱图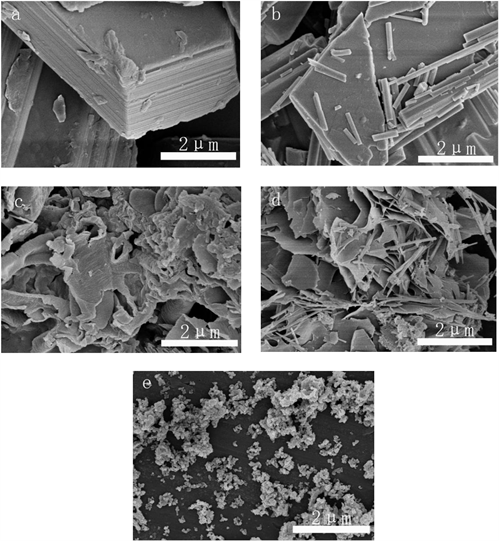 Figure 2. SEM images of ZnO/g-C3N4 series of samples: bulk g-C3N4 (a), ZnO/bulk g-C3N4 (b), lamellar g-C3N4 (c), ZnO/lamellar g-C3N4 and (d) pure ZnO (e)
图2. ZnO/g-C3N4系列样品SEM图:块状g-C3N4 (a),ZnO/块状g-C3N4 (b),层状g-C3N4 (c),ZnO/层状g-C3N4 (d)和纯ZnO (e)
通过扫描电镜观察了样品的形貌。从这些SEM图2中可以看出,块状g-C3N4是由层状g-C3N4堆叠而成的,经过解离负载后,g-C3N4的解离效果并不好,ZnO/块状g-C3N4上分布着棒状的ZnO。从c和d图看出,层状g-C3N4聚集现象比较严重,相比之下,解离后的g-C3N4分层清晰,几乎不存在聚集现象,表面上负载着丝状的ZnO,由此可以看出,解离不仅降低了g-C3N4的聚集现象,同时也阻止了ZnO的生长,起到细化晶粒的作用。与XRD表征结果一致。
3.2. 气敏性能
ZnO/g-C3N4基气敏元件对50 ppm正丁醇在不同工作温度下的灵敏度如图3(a)所示。从图中可以看出,所有样品元件的灵敏度随着温度的升高呈现先增大后减小的趋势。在240℃时ZnO/层状g-C3N4的灵敏度达到最大值,然后随着温度的升高逐渐减小,因此最佳工作温度是240℃,而纯ZnO和ZnO/块状g-C3N4的最佳工作温度是330℃说明所有气敏元件有相同的气敏反应过程,但是最佳工作温度不同。层状g-C3N4不仅能提高ZnO的灵敏度,还能降低它的最佳工作温度。
气敏元件的气体选择性是判断气体传感器性能优劣的重要指标之一。从图3(b)可以看出,在240℃,气体浓度均是50 ppm时,与乙二胺、乙醇、丙酮和异丙醇相比,所有元件对50 ppm正丁醇的选择性较好。ZnO/层状g-C3N4对正丁醇的灵敏度最大,说明ZnO/层状g-C3N4对正丁醇更敏感、选择性更好。样品的选择性可能与g-C3N4的微观形貌有关。所以,我们将240℃作为最佳工作温度,正丁醇作为目标气体,继续讨论ZnO/层状g-C3N4气敏元件的其他气敏性能。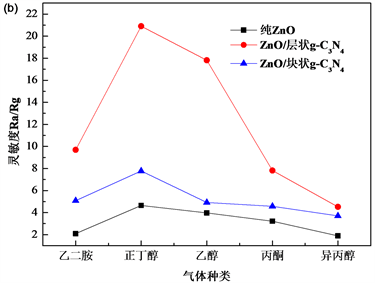 Figure 3. (a) Sensitivity of ZnO/g-C3N4 series of samples to 50 ppm n-butanol at different operating temperatures; (b) Sensitivity of sensors to various gases at 240˚C
图3. (a) ZnO/g-C3N4系列样品对50 ppm正丁醇在不同工作温度下的灵敏度;(b) 在240℃对50 ppm不同气体的灵敏度
所有气敏元件在最佳工作温度240℃时,对不同浓度正丁醇气体的响应如图4(a)所示。从图中可以看出,随着正丁醇气体浓度的升高,所有气敏元件的灵敏度也随之增加。当正丁醇浓度低于100 ppm时,气敏元件的响应急速增加。气体浓度从100 ppm到400 ppm,所有样品的响应升高速度明显减缓,有接近饱和趋势。为了探索ZnO/层状g-C3N4的响应-恢复情况,在240℃下,测试了ZnO/层状g-C3N4气敏元件分别对10、20、50、100、200和400 ppm的正丁醇气体进行响应–恢复情况,结果如图4(b)所示。从测试结果看,随着正丁醇气体浓度的增加,气敏元件的灵敏度逐步增加。说明ZnO/层状g-C3N4是一种对正丁醇具有良好气敏性能的材料。

Figure 4. (a) Sensitivity and (b) the sensitivity-recovery curve of ZnO/g-C3N4 series of sensors at different concentrations of n-butanol at 240˚C
图4. 240℃时,ZnO/g-C3N4系列元件在不同浓度的正丁醇气体中的(a) 灵敏度和(b) 灵敏度恢复曲线
稳定性是商用传感器的关键指标之一。为了反应ZnO/g-C3N4系列元件的稳定性,记录了20天内在240℃条件下,气敏元件在50 ppm正丁醇气体中的5个不同时间的灵敏度,如图5所示。从图中可以看出,在20天的测试中,气敏元件在第1、2、3、5、10、20天的灵敏度变化很小,大约为5%,由此可见,ZnO/g-C3N4系列气敏元件具有良好的稳定性和重复性。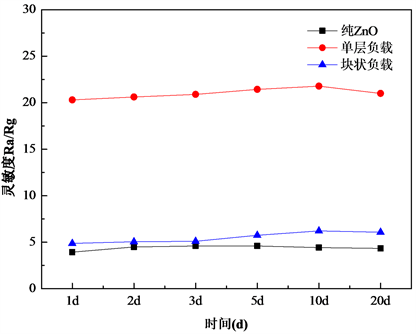 Figure 5. The stability of the ZnO/g-C3N4 series of sensors to 50 ppm n-butanol for 20 days at 240˚C
图5. 在240℃时50ppm正丁醇气体中,ZnO/g-C3N4系列元件的20天稳定性测试
3.3. 气敏机理
众所周知,半导体氧化物的气敏机理是基于其与目标气体发生氧化还原反应引起的电阻率变化。ZnO/g-C3N4系列气敏元件的电阻变化是由于还原性气体分子在其表面的吸附和解吸引起的。在层状的g-C3N4表面附着的棒状ZnO,也是由大量的纳米颗粒组成的。同时g-C3N4的层状结构促进气体分子的扩散和吸附,而且为正丁醇在ZnO/层状g-C3N4表面的氧化还原反应提供了足够的活性位点。
当g-C3N4与ZnO形成异质结时,ZnO的电子会向g-C3N4上转移,直到能级平衡 [33]。 该过程加速了电子和空穴的迁移速率,使得ZnO的表面吸附了更多的氧气分子。氧气分子会吸附更多的自由电子形成氧离子,增加了气敏元件的电阻 [34]。 当气敏元件暴露在还原性正丁醇气体中时,正丁醇与吸附在材料表面的氧离子发生氧化还原反应,捕获的大量自由电子回到导带中,材料电阻急速下降,从而导致灵敏度增加,提高了气敏元件的气敏特性。
ZnO与g-C3N4复合后,材料的禁带宽度变窄,电子从价带到导带所需要的能量变低,从而降低了传感器的工作温度 [22]。
4. 结论
综上所述,通过改变前驱体g-C3N4的形貌,水热法合成了ZnO/g-C3N4系列气敏材料。解离后的层状g-C3N4分层均匀,聚集明显减少,这种层状结构为ZnO的负载提供了更多的活性位点,有效地细化了ZnO的粒径。对ZnO/g-C3N4系列样品的气敏性能测试结果表明,在工作温度为240℃时,ZnO/层状g-C3N4对正丁醇气体的气敏性能最佳,与样品的表征结果一致。气敏元件对正丁醇具有良好的选择性,在10~400 ppm正丁醇中,灵敏度稳步增加,具有良好的稳定性和重复性。
致谢
感谢中国民航大学大学生创新创业训练计划项目(201910059061)的支持。
文章引用
林志雄,金胜龙,雷 洋,熊蓓尔,杨雅淳,连晓雪. ZnO/层状g-C3N4的制备及其正丁醇气敏性能研究
Preparation of ZnO/Layered g-C3N4 and Their n-Butanol Gas Sensing Properties[J]. 材料科学, 2020, 10(04): 278-286. https://doi.org/10.12677/MS.2020.104034
参考文献